Contact Smiths Falls Family Chiropractic
We'd love to hear from you! Call us (613) 283-4100

Please call our office for any
Appointment Requests: (613) 283-4100
EMAIL US
CONTACT
Smiths Falls Family Chiropractic
22 William Street West
Smiths Falls, ON K7A 1N1
Phone: (613) 283-4100
Fax: (613) 283-4107
Office Hours
M
7:45 – 11:30
1:30 – 5:30
T
7:45 – 11:30
1:30 – 5:30
T
7:45 – 11:30
1:30 – 5:30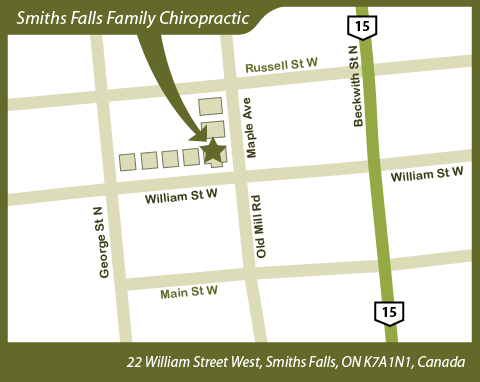 FIND US
From Kingston Highway:
Turn left at Abbot St. and cross the bridge. At the Rideau Home Hardware turn right onto William St. West and we are on the left after the stop sign.

From Brockville:
Continue from highway 29 across the bridge onto Beckwith Street. Turn left at the Royal Bank onto William St. West and we are at the intersection of William and Maple St.
From Ottawa:
From Cornelia St. turn left onto Elmsley St. North (at the hospital and Memorial Centre). Turn right onto Maple St. and travel six blocks to William St. West. We are on the corner of William and Maple.